GENERAL BATTLE CONDITIONS
Skate City Battle
PRO DIVISION (FINAL ROUND)
Best performance – 500€
Second best performance – 250€
Third best performance – 100€
Team Artbeef PRO DIVSION 50€ each
The three skaters of each team / city with the most votes will make it to the PRO DIVISION.
By making it to theArtbeef Pro Division you will directly win 50€.
TEAM PRIZES
Each Skater of the team with the most votes in total (all votes for all skaters of this team) will receive
THE ART BEEF BOX (skate material, shirt, surprises)
DO YOU WANT TO JOIN THE BATTLE?
Upload your videos directly on artbeef.com/upload
If your city isn't listed yet but you think you and/or some other local skaters have the skills to compete, please contact: [email protected]
Do you like to make videos in the mentioned categories and you are down with local artists. Join the artbeef Team: [email protected]
TIMING:
Every skater can upload a video of maximum 45 sec. to prove his or her skills. This could be one or more clips or an edition of several videos, but not longer than 45 seconds in total. The amount of tricks is not limited. You can just send us one clip of one trick/ride or send us various clips which we will edit. It is up to you. It doesn't have to be 45sec. It is just the maxoímum time in total.
RECORDING:
Videos will be recorded by Artbeef team members and authorized contracted cameramen or can be uploaded directly on artbeef.com/upload.
QUALITY AND FORMAT:
Quality should be 4K or FULL HD
FORMAT 16:9 – HORIZONTAL
UPLOAD CONTENT:
Uploaded videos can not be older than 5 years.
SPOTS:
Only streets. No half pipes or skate parks
Though self constructed or placed devices like ramps, rails, etc. are allowed !! Use the sites your city has to offer!
The spots you are recorded at must be inside the city you represent.
Which means for example, if you run for Team Barcelona you can not upload videos you recorded on your trip in Paris. It has to be recorded in Barcelona!
LAUNCHES & DEADLINES:
Launches and deadlines will be announced at (Link)
POR DIVISION
The three skaters with the highest ranking (most votes by viewers) from each City/Team will make it to the next round: ARTBEEF PRO DIVISION
Here the skaters are able to upload new videos in order to get more votes. In the second round the account starts from 0. So only new votes will be taken into account.
Finals:
LIVE PERFORMANCE OF EACH TEAM
GENERAL BATTLE CONDITIONS
VOTE COUNT
We have developed an interactive system to evaluate the artists' performances. During the online battles on artbeef.com, viewers are turned into judges that vote for their favorite performance via WhatsApp.
The FIST-BUTTON next to the videos on artbeef.com will lead you directly to WhatsApp.
You can only vote once for a skater Even if you vote several times for the same skater it still will only count as one vote.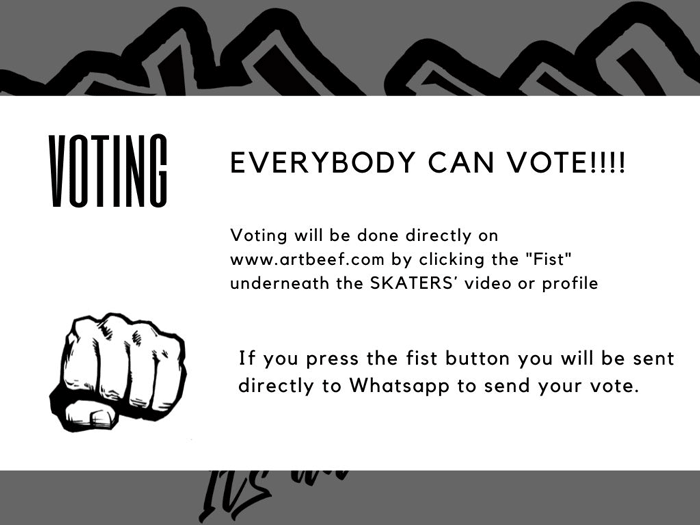 WHAT ARE YOU DOING WITH MY NUMBER? NOTHING!
We will just save your number till the end of the battle to make a fair count on the votes. Your number will be deleted after the battle! Your number will not be passed to third parties or used for any other use then just mentioned above and you haven't agreed on.
FAIRNESS
We assure equal chances to every artist, performer and team. We have programmed algorithms to make sure that all videos appear on the front page with the same frequency. We allot every artist or team the same period of time to acquire votes for their performance.
Our system will only take into account the last votes (day of the deadline) from each individual WhatsApp number and sum up all votes from WhatsApp to determine the best performances.
LEGAL ISSUES
Every participant at the Artbeef Battles hast to agree to our TERMS OF
USE and PRIVACY POLICY
Each performance of the artist has to respect the legal framework and must not violate any third party rights.
That means that no public or private property may be damaged during the performance and taping.
SAFETY ISSUES
The performer's safety has the highest priority. Therefore, we do not want to see any dangerous performances that puts an artist's health in jeopardy.